Babbitt Chainwheels is the leading manufacturer of manually operated overhead valve actuators (chainwheels) worldwide. Babbitt chainwheels with chain guides operate valves in high, normally out-of-reach locations easily and economically. The Babbitt chainwheel attaches to the hand wheel of a valve allowing it to be opened and closed from the floor. Our chainwheels fit valve hand wheels ranging from 2 to 36 inches in diameter.
With our large stock onsite and with our manufacturer's representatives, we deliver quick shipments to your location. Do you have specific requirements for your sprocket or pocket style chainwheel? Let us know and we can make the required changes before the chainwheel is shipped.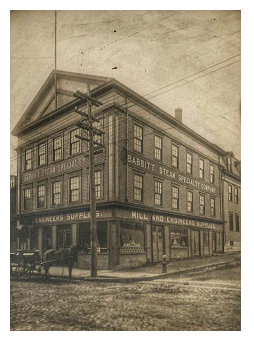 Babbitt Steam Specialty Company began in 1907 as a mill supply house for the textile industry, which was powered by steam during the early twentieth century.  It was located in Babbitt Square which encompassed the area between Spring, Water, School and First Streets in New Bedford, MA from 1907 to 1968. Pictured to the left is the original store front on the corners of Spring and Water Streets.

In 1915, the adjustable sprocket rim (chainwheel) was invented by Isaac N. Babbitt as a way to operate overhead, out-of-reach valves, which had stumped plant engineers for years. The Babbitt Chainwheel today remains similar to the original version. Improvements from the original include the Hammer-Blow, patented by John "Ike" Babbitt, as a way to control high pressure valves and the Safety Wheel which adds a secondary attachment to reduce the potential hazard of a falling hand wheel.

In 1968, the company moved to its current location on Mount Pleasant Street in New Bedford. In 1996, an addition was constructed on the south side of the building, increasing the warehouse total square footage as well as additional office space.

Babbitt Steam is now in its fifth generation of family operation under the leadership of John I. Babbitt, Jr.